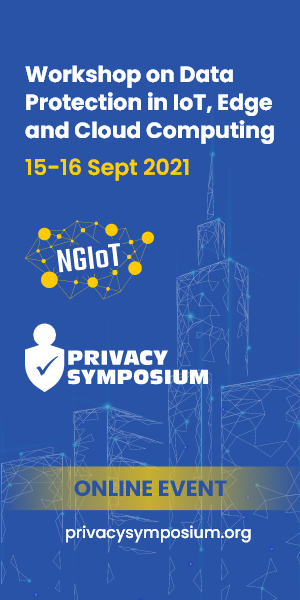 The workshop organized with the NGIOT European research project explored and discussed the challenges related to the evolution of networks and telecommunication technologies with a focus on the Internet of Things, edge computing and cloud computing.
Programme
15th September 2021, 14:30 – 16:00 CEST
Data Protection by Design for the Internet of Things, Edge and Cloud Computing
Sébastien Ziegler, IoT Forum President, Europrivacy International Board of Experts (moderator);
Bernard Benhamou, Secretary General of the Institute of Digital Sovereignty;
Bilel Jamoussi, Chief of the Study Groups Department of ITU Standardization Bureau;
Luca Bolognini, President of the Italian Institute for Privacy and Data Valorisation (IPP);
Mirko Ross, CEO of Asvin;
Joann O'Brien, Vice President, Digital Ecosystems, TM Forum;
Cécile Théard-Jallu, Partner at De Gaulle Fleurance & Associés, Vice-Chair of the Healthcare & Life Sciences Law Committee (panelist);
Roberto Cascella, Senior Policy Manager at ECSO (panelist).
16th September 2021, 14:30 – 16:00 CEST
IoT, Edge, and Cloud Computing Research and Innovation Challenges
Paolo Balboni, Professor of Privacy, Cybersecurity, and IT Contract Law at the European Center on Privacy and Cybersecurity (ECPC) within the Maastricht University Faculty of Law (moderator);
Antonio Skarmeta, CTO of OdinS, Professor at University of Murcia;
Magdalena Kogut-Czarkowska, Attorney-at-law at Timelex;
Eva Fogelström, Director of the Security Research Department within Ericsson Research;
Meiko Jensen, Professor for IT Security and Privacy at Kiel University of Applied Sciences;
Francesco Capparelli, Senior Fellow Researcher at Italian Institute for Privacy and Data Valorisation (IIP);
Ulrich Ahle, Chief Executive Officer at FIWARE (panelist).