Online Event | 15-16 Sept 2021 Programme
We invite you to take part in these online sessions organized by the European research project NGIOT to discuss GDPR compliance with the Internet of Things, edge and cloud computing.

We invite you to an online event on Internet of things, edge, and cloud computing compliance with data protection regulations. The event is free but requires registration.
This online event will focus on:
15th Sep

14:30 CEST - 16:00 CEST

Sébastien Ziegler

Bernard Benhamou

Bilel Jamoussi

Speaker
16th Sep

14:30 CEST - 16:00 CEST

Paolo Balboni

Magdalena Kogut-Czarkowska

Antonio Skarmeta

Speaker
Find us on social media:
.
Offcial Sponsors & Partners
Key Partners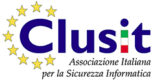 Support Partners