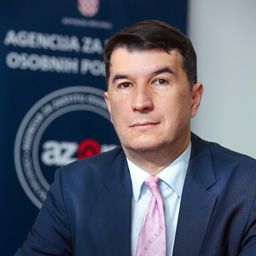 Zdravko Vukić
Director of the Croatian Personal Data Protection Agency
Zdravko Vukić graduated from the Faculty of Law, University of Osijek, and holds a Master's degree in Public Administration. Afterward, he studied business economy and globalization in Zagreb and obtained a Master's degree in Economics from Libertas International University.
Between 2005 – 2016 he was a chief human resources officer in charge of the organization's employees and legal affairs, and between 2008 – 2016 he was also a data protection officer.
From 2016-2020 he served as an Assistant Minister at the Ministry of Construction and Physical Planning where he was monitoring the running of the Directorates for Inspection Affairs, Supervision and Information System Development.
In 2020 he was appointed as a director of the Croatian Personal Data Protection Agency.
He is a guest lecturer on personal data protection at several faculties in Croatia and a member of the Office of the National Security Council.
He has also been active recently in the European Union instrument for institutional cooperation between Public Administrations of EU Member States and non-EU countries aimed at harmonizing the national legislation with the EU legislation in the field of personal data protection, as well as in EU-funded project ARC implemented successfully in cooperation with the Irish Data Protection Authority.
Under his leadership, in 2022 the Croatian Personal Data Protection Agency organized the Spring Conference of the European Supervisory Authorities, the most important forum for cooperation among European regulatory authorities.
He is a member of the Steering Committee of the ARC II project that Croatian DPA implements in cooperation with Garante Privacy, aimed at the development of an innovative GDPR compliance tool with the goal to support SMEs and DPOs in the implementation of the data protection legal framework.